Meet us at one of our special events
All the great minds of our time have one thing in common: They have to eat something now and then.
think-cell takes this need very seriously, which is why it came up with the EAT++ series of career events. We regularly invite computer science students to talk over a meal in a relaxed atmosphere. We also support conferences on C++, Artificial Intelligence and Computer Graphics and give technical talks or complete technical courses on topics our developers know by heart. And we love to support and join all kinds of student parties at renowned computer science departments with good food and drinks.
We decided to do this, because we are constantly on the lookout for new software developers. We are very interested in emerging talent and will be happy to stay in touch with you over the longer term. Even if you have no specific plans for your professional future, we would still like to get to know you. And we think we can do that best when meeting in a relaxed, informal atmosphere.
C++ Meetup in Dublin
October 10, 2016
Dublin - Irish capital and cultural heritage stronghold - has recently evolved into a startup hub and breeding ground for software development. Therefore, we decided to travel to the "green island" to visit the "Dublin C/C++ User Group" at their monthly Meetup. On October 10th at 6:30 p.m., think-cell's senior software developer Edgar Binder will talk about Ranges in his talk,
From Iterators to Ranges — The Upcoming Evolution of the Standard Library:
Pairs of iterators are ubiquitous throughout the C++ library. It is generally accepted that combining such a pair into a single entity usually termed Range delivers more concise and readable code. Defining the precise semantics of such Range concept proves surprisingly tricky, however. Theoretical considerations conflict with practical ones. Some design goals are mutually incompatible altogether.
We will host the Meetup at bow street academy, and yummy snacks and beverages will of course be provided.
We invite all students, academic staff, and professors of Computer Science of Dublin's universities to join us for this evening. Furthermore, we are looking forward to meeting local C++ addicts and experienced developers!
Edgar's talk about Ranges for the standard library will be...
... followed by snacks and drinks to fill up the energy level again!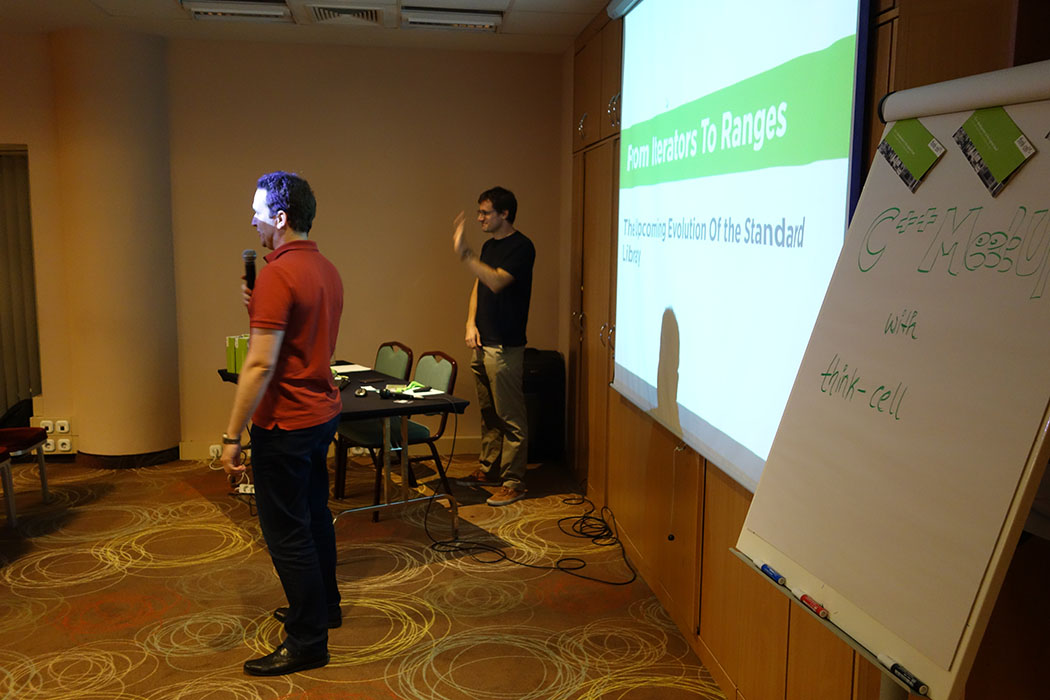 Your registration and attendance are not binding in any way.
Past events
Want to know more?
If you have any questions regarding working at think-cell, our job openings or events, please feel free to contact our colleague Annika Klauske.
hr@think-cell.com
+49 30 666473-10